Since its founding in 1895, JAPAN SEIKO GLASS CO.,LTD. has a history of 120 years. We own a top market share in cosmetic bottle industry in Japan. The Japan's most transparent bottle favors the beauty of the contents, and it is the reason for the top market share to contribute to increase the sales. In addition to cosmetics manufacturers, it is widely used in various food and beverage manufacturers.
In recent years, we have participated in the United States, Korea, Taiwan and Singapore exhibition every year.
Best raw materials, state-of-the-art facilities, for many years cultivated technology, and manufactured with strict quality control by visual inspection, please use all means for your business.



【New Alibaba website】
https://japanseikoglass.trustpass.alibaba.com/
NEW PRODUCTS 2021
ANNOUNCEMENT




FOOD AND HOTEL ASIA(FHA) 2021 in Singapore has been postponed to 2022.

PROPAK 2021 in Thailand has been postponed to 2022.


FINE FOOD AUSTRALIA 2020 in Australia(Melbourne) has been postponed to 6th-9th of September in 2021(Sydney).



JAPAN SEIKO GLASS CO.,LTD. participated at FOOD WEEK KOREA 2019,
FINE FOOD AUSTRALIA 2019 and TAIPEI PACK 2019.

We had about 120 companies visited our booth at FOOD WEEK KOREA
2019 and PROPAK 2019, also more than 150 companies visited our booth
at TAIPEI PACK 2019 and FINE FOOD AUSTRALIA 2019 with many
showing strong interest in our highly transparent glass containers that
comes in different shapes and sizes.

Please order a sample bottle from 200 kinds of products. Compare to current bottle in use, you can understand the highest transparency in obvious at a glance.

In late years, customer of food and beverage manufacturer has been increasing year by year as well as cosmetic manufacturer. It is especially popular among high-grade olive oil, vinegar, jam, honey, liquor, and health drink.
Sales often improves because it is possible to bring out the contents of the beauty to the maximum.
We believe that our factory is ideal for "limited product editions."
What's more, we are putting the machines in our factory suitable for limited edition products. Our factory specializes in producing in small quantity.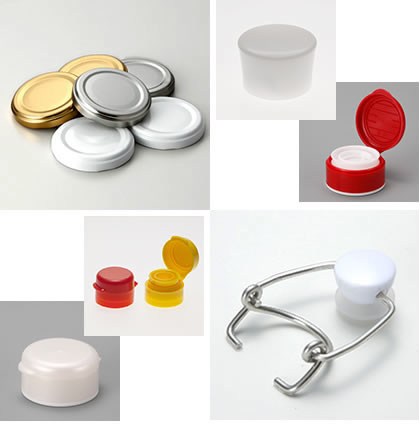 As a matter of course it is available to develop and produce the original design. It costs approximately 2.5 million Yen to develop original mold. Please consider making the original mold when you purchase 30,000 or more bottles annually.

The number of economical lot size indication of the original mold production is as follows:
720ml = approx. 30,000 bottles
300ml = approx. 45,000 bottles
100ml = approx. 60,000 bottles
50ml = approx. 70,000 bottles
Attract consumers' attention.
We are capable to print frost processing, color coating and logo print processing beautifully and precisely. You can produce a feeling of luxury and originality by changing the texture of the bottle or expressing a wide variety of colors. It is even more impressive with the characteristics of the product. Our products also meet strict California's Proposition 65 standard.
Winning in both Japan and the US glass bottle Awards has proven high-quality bottles and high processing technology.

[USA] Win Gold prize and Silver prize on Packaging Design Award in San Francisco World Spirits Competition 2015.

[Japan] Win The Chief Juror's prize in authoritative Glass Bottle Award 2014.

We have exhibited at many overseas exhibitions until now.

2014: Hong Kong Food Expo 2014 at Hong Kong.
2015: San Fransisco Japan Festival 2014 at US.
2015: Natural Products Expo West 2015 at US.
2015: Milano Expo 2015 at Italy.
2015: Pack Expo Las Vegas 2015 at US.
2015: Gwangjiu Food 2015 at Korea.
2016: Natural Products Expo West 2016 at US.
2016: Food&Hotel(FHA) 2016 at Singapore.
2016: Seoul Food 2016 at Korea.
2016: Kaohsiung HORECA 2016 at Taiwan.
2017: Sirha 2017 at France.
2017: Natural Products Expo West 2017 at US.
2017: Seoul Food 2017 at Korea.
2017: Taiwan HORECA 2017 at Taiwan.
2018: Natural Products Expo West 2018 at US.
2018: Food&Hotel(FHA) 2018 at Singapore.
2018: Seoul Food 2018 at Korea.
2018: TAIPEI PACK 2018 at Taiwan.
2018: FINE FOOD AUSTRALIA 2018 at Australia.
2018: FOOD WEEK KOREA 2018 at Korea.
2019: Seoul Food 2019 at Korea.
2019: PROPAK 2019 at Thailand.
2019: TAIPEI PACK 2019 at Taiwan.
2019: FINE FOOD AUSTRALIA 2019 at Australia.
2019: FOOD WEEK KOREA 2019 at Korea.


We've been accumulating processing technology over the years, continuing to provide the product to the leading cosmetics company in Japan.
Gallery
PERSIMMON VINEGAR
SSE-200A(200ml)

SESAMI OIL
SSG-120B(120ml)

PLUM SYRUP
SSY-200A(200ml)

HONEY WITH NUTS
WMN-150TC(150ml)

COCONUT OIL *Customer in Vietnam
WMH-250TC(250ml)

HONEY WITH GOLD POWDER
WMM-90TC(90ml)

ORANGE JAM
WMB-100TC(100ml)

OLIVE OIL
SSI-50B(50ml)

RAPE SEED OIL
SSF-100B(100ml), SSF-200B(200ml)


APRICOT SEED OIL
SS Heart-200B(200ml) *Heart-shaped

PONZU VINEGAR, YUZU PONZU DRESSING, YUZU SALT PONZU DRESSING
SSA-300B(300ml)

CHOCOLATE PASTE
WMT-100TC(100ml)

SALT
SSW-100A(100ml)

STRAWBERRY LIQUOR
OSG-500EU(500ml)

DRY FRUIT
ReveQ-200HC(200ml)

FRUIT JAM
WMP-100TC(100ml)

YUZU MISO
WMY-100TC(100ml)

COLLAGEN JAM
WML-90TC(90ml) *Heart-shaped

MSN-T200DTS
MSN-T200DTS(200ml)

MSN-200DTS
MSN-200DTS(200ml)

MSN-300DTS
MSN-300DTS(300ml)

CAPS
About us
Our commitment to the environment
As we all know the glass is 100% recyclable eco-products. We strive for more reduction of electric energy and CO2 by LNG of the factory, LED lights, heat source recycling, hybrid car introduction, packaging materials recycling, and so on.
| | |
| --- | --- |
| Company Name | JAPAN SEIKO GLASS CO.,LTD. |
| Establishment | September, 1895 |
| Head Office | 1-2-25, Nagaranishi, Kita-ku Osaka-shi, Osaka, 531-0061, Japan |
| President | Jiro Konishi |
| Overseas sales | Overseas Division, General Manager Yosuke Shimizu |